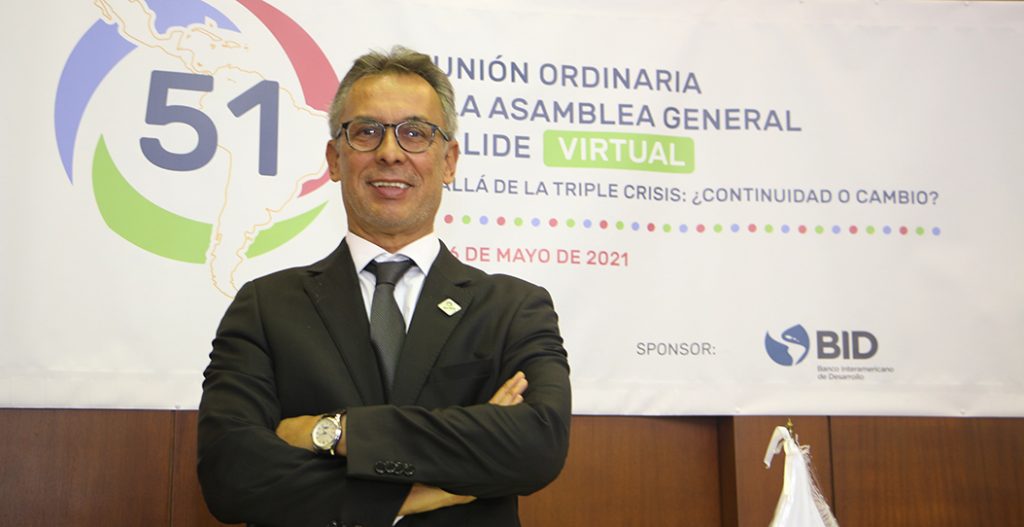 ALIDE ratifies Edgardo Alvarez Chávez as Secretary General for the period 2021-2026
Representatives of the Association's member institutions at the 51st General Assembly unanimously approve the Peruvian executive's renewed period of office
---
June 1, 2021- During the 51st Meeting of the General Assembly, ALIDE member institution representatives ratify Edgardo Alvarez Chávez as the Association's Secretary General.  The proposal to ratify the Peruvian executive was presented by the Executive Committee and unanimously approved by the Assembly of ALIDE member institutions.
Edgardo Alvarez Chávez's term of office will be extended another five years, from 2021 to 2026.  In that way, the Secretary General will fulfill his second period as ALIDE's legal representative and leader of the implementation of its Annual Work Program, after having been elected for the first time for the period  2016-2021.
The renewal of the Secretary General's period of office can be attributed, among other reasons, to his successful leadership of ALIDE during the present crisis.  Appropriate management could be seen over this period, which has strengthened ALIDE as both an institution and financially, as can be seen in the Association's sound financial statements.   The boosting of cooperation programs in the area of sustainable development, such as the ALIDE Regional Readiness Project-Green Climate Fund, was also recognized.
Furthermore,  ALIDE's greater presence and linkup with international organizations and extraregional banks has been noteworthy under Edgardo Alvarez's leadership, such as the incorporation of the Exim Bank of India and the European Investment Bank (EIB), and the inclusion of the Long-Term Investors Club of the Group of 20 — LTIC- G20, the Club of Development Banks of the world's 20 largest economies.
"These actions have enabled ALIDE to consolidate a clear position of leadership in promoting Latin American and Caribbean development banking in the region and the rest of the world," ALIDE President, Carlos Linares, pointed out in that regard.
About ALIDE
ALIDE is the community of financial institutions that generates banking solutions for the development of Latin America and the Caribbean. Founded in 1968, its main objective is to contribute to the economic and social development of the region, through the good practices in development financing that it promotes among its associates, about 90 institutions with a presence in more than 20 Latin American countries and other regions of the world.
Contact
Hanguk Yun
Officer, Comunication Unit
Telephone: +511-203-5520 |: Ext: 226
comunicaciones@alide.org
www.alide.org