They are grouped into three categories:
Active Members: These are public or private Latin American and Caribbean development banks and development financing institutions.
Associate Members: These are world, multilateral, regional or subregional financial institutions or non-Latin American national financial institutions that contribute to Latin American economic development.
Collaborating Members: These are other financial or related institutions of Latin American and Caribbean countries whose purposes are the same as those of ALIDE and that express their willingness to support the activities of ALIDE and of its members.
Main benefits

Is recognized by peers as an active leader in shaping the growth of development banking and financing.

Gains increased visibility through ALIDE's outreach efforts to governments, international organizations, investors and the banking community.

Guides ALIDE's advocacy efforts to improve the policy and regulatory environment throughout Latin America and the Caribbean.

Benefits from an improved banking and investment environment as a result of ALIDE's advocacy work and educational training and technical assistance programs.

Receives special access to sector data and tools –qualitative, comparative, and statistical– from ALIDE's research initiatives and strategic partnerships.

Networks at ALIDE events with other sector leaders, as well as senior policymakers and multilateral agencies.

Has priority standing for coverage in the ALIDE Magazine and Bulletins read periodically by sector executives and professionals.

Takes part in research and studies promoted by ALIDE.

Participates in technical meetings, seminars and forums.

Benefits from technical assistance and specialized technical advisory programs.

Qualifies for fellowships, on-the-job training and other educational and familiarization opportunities, both in the region and in other parts of the world.

Participates in the programs, projects, operations and activities of the World Federation of Development Financing Institutions (WFDFI).

Has access to the Convention facilities and Documentation Center services at ALIDE's Headquarters in Lima, Peru.
How to become a member?
1. The institution in question must first send a formal letter to the Secretary General of ALIDE, expressing its interest in becoming a member of the Association. This letter must be accompanied by the following institutional documents and information: its bylaws; most recent annual report and financial statements; and lists of its Board of Directors and Management team.
2. It is understood that by sending that letter, the applicant institution accepts its commitment to fulfill the membership obligations, including the payment of membership fees, consisting of an admission fee, paid once only, and an annual membership fee.
3. The General Secretariat will then evaluate the information provided by the applicant institution and submit it to the Association's Executive Committee for consideration.
4. The Executive Committee, which is responsible for approving the incorporation of new members into the Association, will reach a decision within a period of no more than 10 days after receiving the application for membership from the General Secretariat.
5. The General Secretariat will then inform the interested institution of the Executive Committee's decision and will send it the documents concerning membership in ALIDE.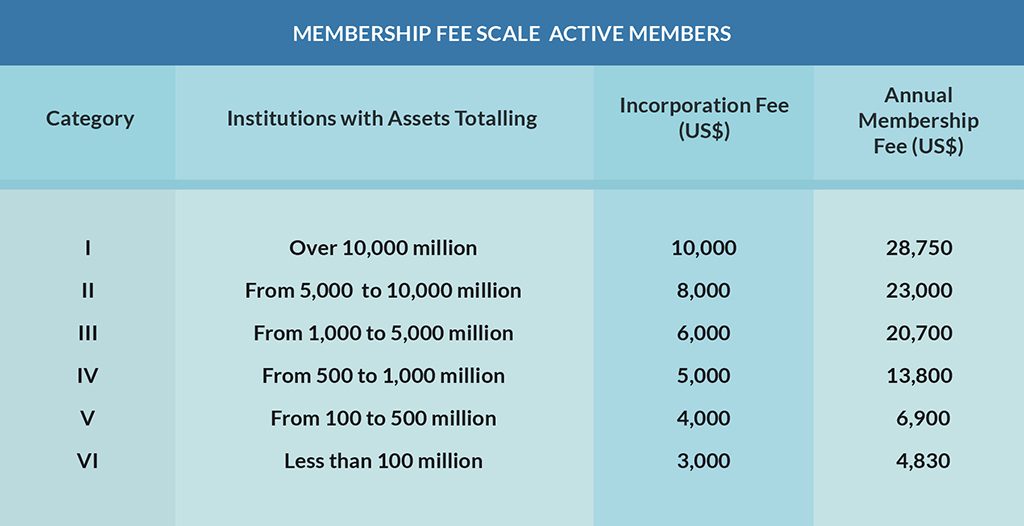 Incorporation fee
Institutions joining ALIDE must formalize their incorporation by paying this fee once only.
Annual social fee
ALIDE member institutions must pay this fee once a year.