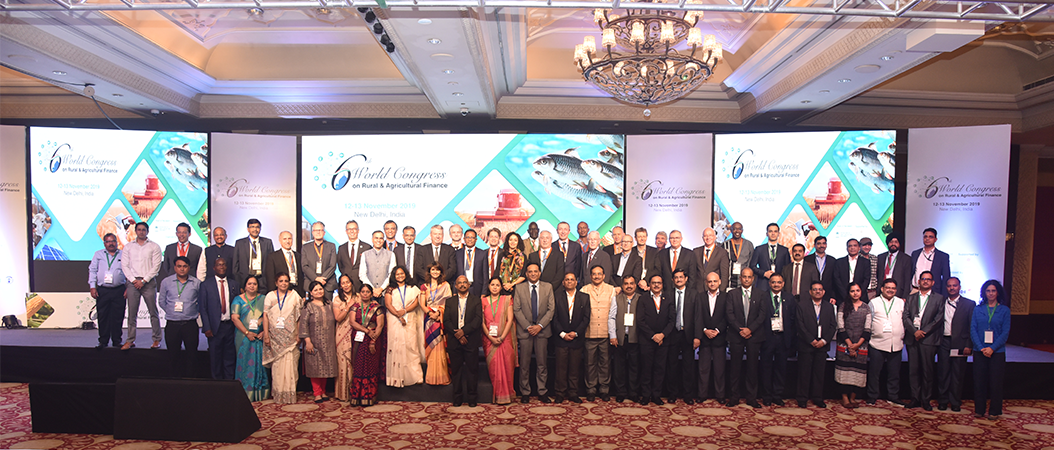 ALIDE shared experiences from Latin American Banks in World Congress
As announced, the next congress will be held in Mexico hosted by Fideicomisos Instituidos en Relación con la Agricultura (FIRA).
---
November 16, 2019.- New Delhi, India, was the site of the 6th World Congress on Rural and Agricultural Finance (WCRAF), held on November 13 and 14. A group of representatives of development finance institutions from different parts of the world gathered in the city to discuss issues that will define the future flow of financing for the rural and agricultural sector.
The Congress, under the key topic of "Agricultural and Rural Finance: Critical Aspects for Promoting Inclusion and Sustainable Development," made it possible to share financial sector aptitudes of different world regions concerning the provision of financing to attain equitable growth, spur innovation and promote international cooperation.
Generally speaking, the purpose of the triannual meeting is to fight poverty and inequality and to respond to threats of climate change towards the year 2030, with the active support of the financial sector and public policy-makers. This year's specific aim was to assess the global approximation to agricultural and rural finance, as a critical input for achieving sustainable and inclusive growth in the sector.
Among the participants and speakers were representatives of ALIDE Member institutions: Banco de Desarrollo of El Salvador (Bandesal), Federación de Cajas de Crédito y de Bancos de los Trabajadores (Fedecrédito), the French Development Agency (AFD), KfW Development Bank of Germany and Mexico's Fideicomisos Instituidos en Relación con la Agricultura (FIRA).
ALIDE Secretary General Edgardo Alvarez, for his part, made a presentation entitled «National Development Banks and Technological Modernization in the Agricultural Sector," in which he explored the support programs implemented by Latin American institutions to boost technology-induced productivity and competitiveness improvements.
Hosted by the National Bank for Agriculture and Rural Development (Nabard) with the support of India's Agriculture Ministry and the collaboration of the International Confederation for Agricultural Credit (CICA), the Congress was organized by the associations of development finance institutions from different parts of the world, including ALIDE.
The World Congress is the outcome of the international commitment to improve the flow of financing and investment to the sector. It has been held, without interruption, every three years since 2004.
About ALIDE
ALIDE is the community of financial institutions that generates solutions in Latin America and the Caribbean. Its main objective is to contribute to the economic and social development of the region, through good practices in the financing of development, the promotion of its members, through cohesion activities and strengthening the participation of financial institutions in the process regional economic.
Press Contact
Hanguk Yun
Responsable de Comunicación Social de ALIDE
Teléfono: +511-203-5520 |: Ext: 226
comunicaciones@alide.org
www.alide.org