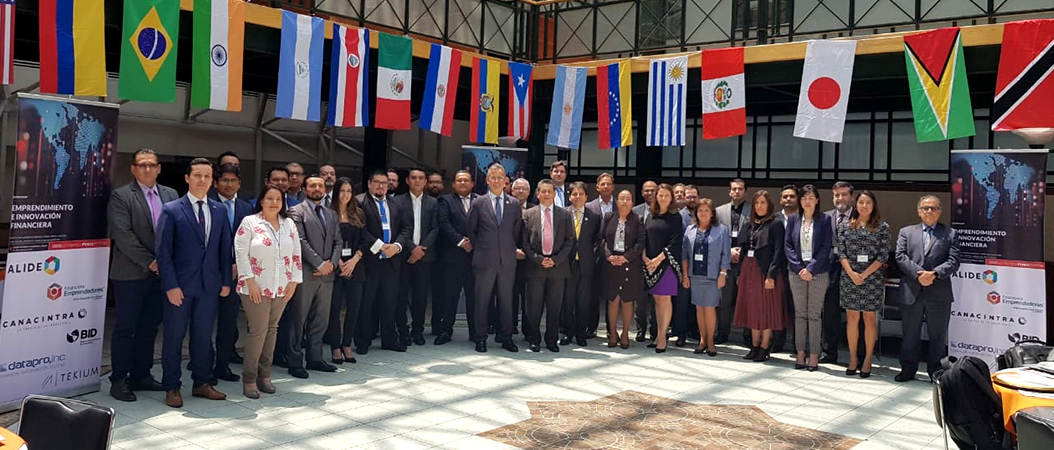 The Latin American financial sector examined practices and trends regarding entrepreneurship and financial innovation
The Workshop, organized by ALIDE and Financiera Emprendedores, with the collaboration and sponsorship of Canacintra, convened various actors from the regional and Mexican financial ecosystem.
September 28, 2019.- The technological disruption that various sectors of the economy are undergoing and the boom of the FinTech industry have an impact on the transformation of the processes and practices of the financial institutions and development banks. This scenario fosters, among other changes, the creation and use of new technologies, financial instruments and specialized programs, in order to guarantee the financing of endeavors and financial inclusion.
Understanding the nature of this process, knowing about successful financing experiences and anticipating the trends are strategic necessities of financial institutions. In order to make contributions to that effect, ALIDE, Financiera Emprendedores de México and the Inter-American Development Bank (IDB), organized, with the sponsorship of the National Chamber of the Transformation Industry (Canacintra), the Workshop "Entrepreneurship and Financial Innovation: International Practices on Digital and Niche Banking, FinTech and Development Banking", which was held on September 24 and 26.
The activity convened in Mexico City and Querétaro different actors from the financial ecosystem of Latin America and Mexico, such as development banks, commercial banks, Sofomes (Multiple Purpose Financial Companies), guarantee companies, central banks, bank superintendencies, international financial organizations, think tanks, trade associations and private companies. The speakers included Francisco Meré, president of Asociación FinTech México, Juan Carlos Sierra, president of Financiera Emprendedores; Enoch Castellanos, president of Canacintra, and representatives from Wilobank (the first native 100% digital bank) from Argentina, Garantizar Sociedad de Garantía Recíproca (leader) from Argentina, Aplicaciones de Inteligencia Artificial (AIS) from Spain, among others.
The Workshop presented concepts and practices regarding entrepreneurship and financial innovation in Latin America, particularly related to the new services of digital and niche banking, FinTech practices, the utilization of digital guarantees and machine learning and big data techniques in bank credits, as well as the role of Development Banking in supporting financial inclusion and the local ecosystem.
Specifically, the participants identified the new trends in financial services at the global and niche levels, and the instruments supporting the current financial industry. They also became aware of the challenges for scaling this technology to the markets.
Through the information that was shared, the case analysis and the networking, the ecosystem of entrepreneurship and financial innovation in the region were strengthened in order to boost the participation of development banking in financial inclusion.
About ALIDE
ALIDE is the community of financial institutions that generates solutions in Latin America and the Caribbean. Its main objective is to contribute to the economic and social development of the region, through good practices in the financing of development, the promotion of its members, through cohesion activities and strengthening the participation of financial institutions in the process regional economic.
Press Contact
Hanguk Yun
Responsable de Comunicación Social de ALIDE
Teléfono: +511-203-5520 |: Ext: 226
comunicaciones@alide.org
www.alide.org