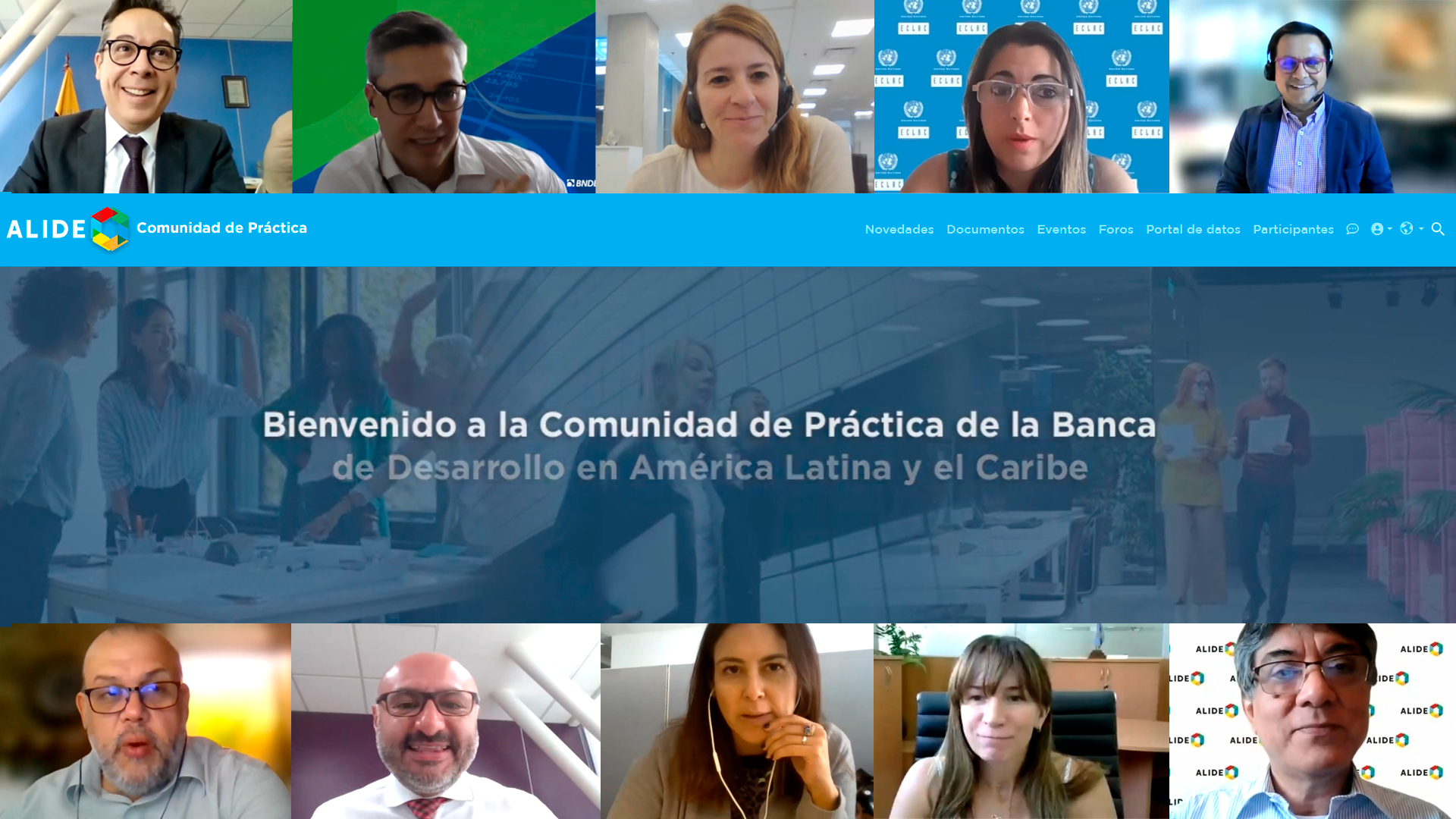 The Development Banking Community of Practice holds its first meeting
The members of the community fostered by the IDB, ECLAC and ALIDE will meet once again on February 16 during the webinar on Development Banking and the SDGs.

---
February 9, 2023- The Development Banking Community of Practice met for the first time in an online event organized by the Latin American Association of Development Financing Institutions (ALIDE), the Inter-American Development Bank (IDB) and the United Nations Economic Commission for Latin America and the Caribbean (ECLAC).
A total of 42 representatives of ALIDE member institutions were present in an exchange of ideas for enriching the platform that seeks to facilitate the coordination, learning and dissemination of best practices in Latin America and the Caribbean.
"This community of practice belongs to all of us, to the members and to the focal points of each institution," Enrique Nieto, General Operations Consultant in Financial Markets at the Inter-American Development Bank, pointed out.
He also stressed the platform's importance in enabling all of the members to benefit from each other and contributing toward capacity building in Latin American development institutions.
Esteban Perez, Coordinatior of ECLAC's Financing for Development Unit, for his part, underscored the opportunities that the Community of Practice could create for confronting challenges that development finance institutions are facing, like poor risk management capacity and improvement of technical capacity.
Romy Calderón, Head of Economic Studies at ALIDE, invited the participants to visit and consult the Development Banking Hub, encompassing the Community of Practice and the Digital Banking, PPP Group and LATAM Projects platforms.
He went on to stress that the very essence of development banking is cooperation and explained that the meetings and forums that will be held as of the implementation of the Community of Practice will offer an opportunity to share and to create ties at different levels.
Development Banking and the SDGs
This coming February 16th, the Development Banking Community of Practice will hold the Webinar on Development Banking and the SDGs, dealing with the issue of greatest interest chosen by the participants and the work plan will be presented.
All ALIDE member institutions are invited to the webinar and to appoint a focal point to participate in the forthcoming activities.
About ALIDE
ALIDE is the community of financial institutions that produce banking solutions for Latin American and Caribbean development. Founded in 1968, its main purpose is to contribute to the region's economic and social development by promoting the use of good development finance practices among its members. It is comprised of more than 80 member institutions operating in over 20 countries of Latin America and other regions of the world.
Contact
Communnication Unit of ALIDE
Phone: +511-203-5520 |: Ext: 227
comunicaciones@alide.org, comunicaciones2@alide.org
www.alide.org