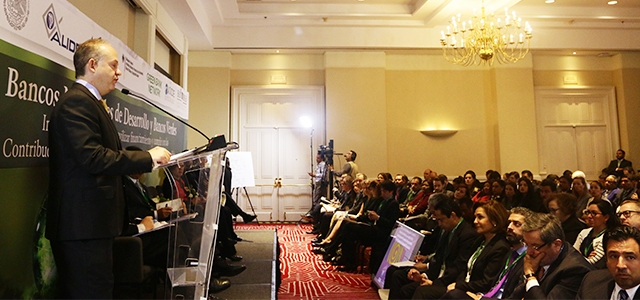 Development Banking must strengthen efforts to boost green investments in LAC
July 2017.- More than one hundred representatives from Development Banks of the region participated in the forum "National Development Banks and Green Banks" (Mexico City, June 26 and 27), in which the necessary measures for a more effective implementation of the Paris Agreement and the environmental financing were discussed.
At the opening of the forum, the speakers highlighted the need for Development Banking to strengthen its measures to promote financing in strategic sectors with an environmental focus and projects that contribute to mitigate the effects of climate change.
"Climate change represents a priority that needs to be addressed from several areas, including the economic area, and it is precisely there where the role of Development Banking takes on greater relevance. For this reason, it is fundamental that we, Development Banks, adopt measures that allow us to boost financing in strategic sectors with an environmental focus", stated Alfredo Vara Alonso, CEO of the National Works and Public Services Bank of Mexico (Banobras).
"We must even go a step further and develop financial solutions which allow us to incorporate the capital and know-how of the private sector into the development of green projects", added the CEO.
In turn, ALIDE's secretary general, Edgardo Alvarez, stressed the need for the sector to "take a new step towards the objective of advancing towards a Green Development Banking in the region and in the framework of global agreements in order to support governments in achieving the goals of sustainable investments in matters of climate change and the objectives of sustainable development".
In this regard, he said that for several years and through integrated efforts, ALIDE and its member institutions have implemented the cooperation program "Support to development banking in financing for the mitigation of climate change", in order to strengthen the capabilities of this sector in the promotion of green investments in Latin America and the Caribbean.
The forum is organized by Banobras, ALIDE, Inter-American Development Bank (IDB), Organization for Economic Co-operation and Development (OECD) and Green Bank Network.
Contacts:
Hanguk Yun Bendezú
Corporate Communication Unit of ALIDE
Phone: +511 – 442-2400 ext. 226
e-mail: comunicaciones@alide.org