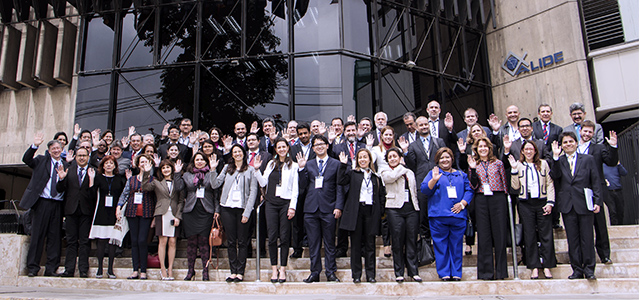 Development Banking plays a leading role in innovation for promoting financial inclusion in LAC
August 2017.- The financing of SMEs and the development of innovation in order to further financial inclusion are key scopes of action of Development Banking, as indicated by the participants of the seminar "Promoting Financial Inclusion through Innovative Policies of Development Banking", organized by the Latin American Association of Development Financing Institutions (ALIDE) and the Economic Commission for Latin America and the Caribbean (CEPAL).
"We believe that the central role in financial innovation in order to move towards inclusion rests on the role of development banking and public banking. Indeed, an important part of their mandate is to promote financial development in order to foster economic development", said Daniel Titelman, director of the Economic Development Division of CEPAL.
"There is a very important focus of development banks on promoting what we call SMEs. The great opportunity for our institutions is in the use of new technologies in order to be more productive, effective and efficient when dealing with financial inclusion", commented Jessica López, vice president of ALIDE.
In this sense, it was pointed out that there is a broad space for the innovation and advancement toward improving the inclusion levels of the region. "This requires innovation, because in order to include one must develop instruments capable of adapting to the needs of the different risk managements that the productive structures of these countries have", stated the director of CEPAL.
Other topics of particular interest discussed during the two days of the seminar were the need for innovation to take place within a solid institutional framework that guarantees its continuity, the fields of action shared among development banking and other sectors; as well as the potential of technology platforms to lower costs and create instruments.
Moreover, the seminar was highlighted as a mechanism to foster the exchange of experiences, given the wide variety of economic situations and development banks that exist in the region. It should be noted that the seminar was held on August 16 and 17 at the ALIDE Convention Center in Lima (Peru), with the participation of 63 representatives from financial institutions of 17 countries in the region.
Contacts:
Hanguk Yun Bendezú
Corporate Communication Unit of ALIDE
Phone: +511 – 442-2400 ext. 226
e-mail: comunicaciones@alide.org