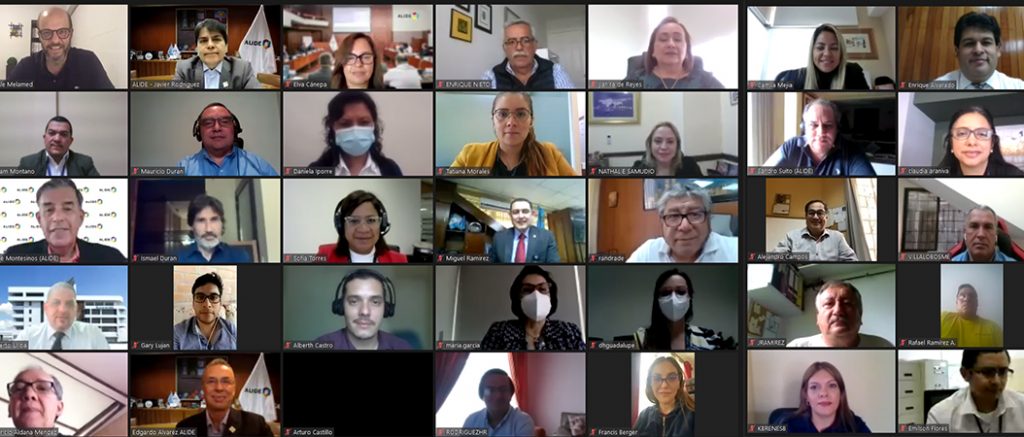 Finance institution directors discuss human talent management solutions in confronting the COVID-19 crisis
More than 50 finance institution representatives from ten Latin American countries meet at the Congress organized by ALIDE.  



---
April 12, 2021- Latin American finance institution directors discussed solutions applied in the sphere of human talent management in response to the crisis and quarantine measures imposed during the COVID-19 pandemic. More than 50 representatives of these institutions from ten of the region's countries spoke about alternative responses at the Congress organized by ALIDE.
The intention of the Congress entitled "Disruptive Management of Human Talent in a Crisis Environment: How can we adapt to the Digital Era?" was to contribute a practical vision of human talent developments and experiences involving the use of innovation and technology to the community of managers of human talent and related areas. The Congress was conducted by means of talks given by experts backed by workshops, group discussions and the presentation of successful financial institution case studies.
Speakers at the event were well-known experts on the subject, such as Alejandro Melamed, lecturer, executive coach and disruptive consultant at Humanize Consulting; Teresita Serrano, Academic Director of the LATAM Business School; Jorge Alberto Hernández, Executive Vice-President for Talent and Culture of BBVA Colombia; and María Fernanda Botti, Human Resources Manager of Garantizar SGR, among others.
Organizational culture was one of the principal concepts connected with human talent management to be examined at the Congress. The plans and strategies of organizations can be materialized in concrete actions through organizational culture. For experts, this culture makes it possible to put the organization's ideas into practice
The other main topics discussed during the talks were leadership in virtual events, culture and change; innovation in the human talent business model; digital transformation in public development banking; application of technology to human talent; and experience implemented, among others.
About ALIDE
ALIDE is the community of financial institutions that generates banking solutions for the development of Latin America and the Caribbean. Founded in 1968, its main objective is to contribute to the economic and social development of the region, through the good practices in development financing that it promotes among its associates, about 90 institutions with a presence in more than 20 Latin American countries and other regions of the world.
Contact
Hanguk Yun
Officer, Comunication Unit
Telephone: +511-203-5520 |: Ext: 226
comunicaciones@alide.org
www.alide.org