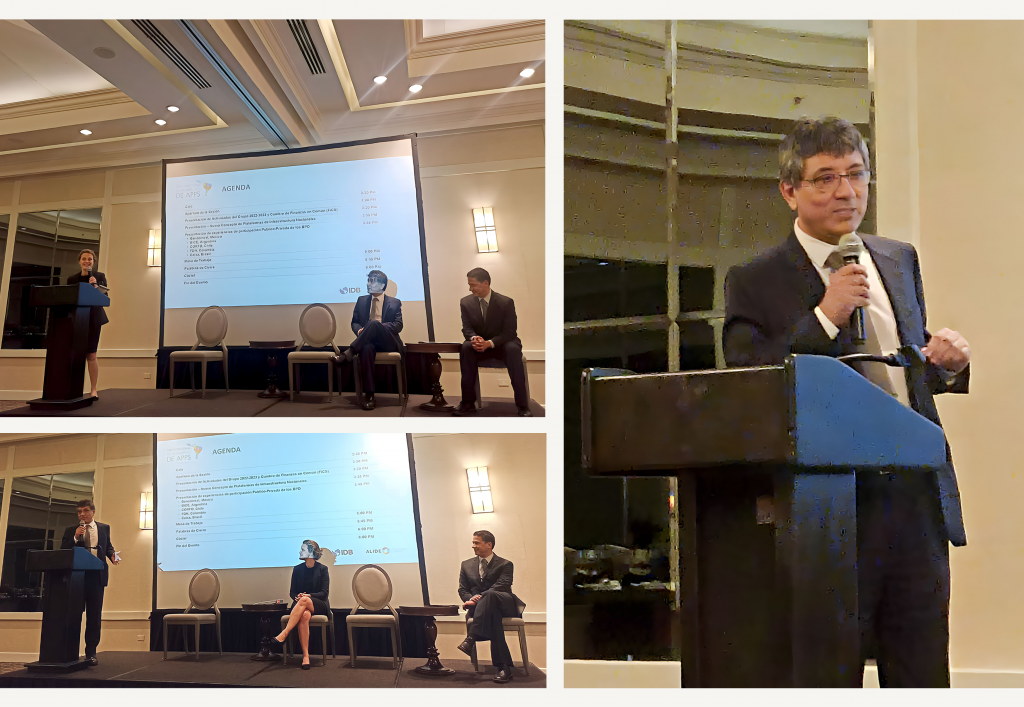 Fifth Annual Meeting of the Regional PPP Development Group is held in Panama
ALIDE and the IDB participate in opening and closing sessions of the event, emphasizing the Group's most important accomplishments as of its launching in 2019
---
July 24, 2023- The Latin American Association of Development Financing Institutions (ALIDE) and the Inter-American Development Bank (IDB) jointly organized the Fifth Annual Meeting of the Regional PPP Development group that was held on July 20 in Panama City.
During the event, a presentation was made of the events carried out by the Group over the previous five years and those planned for 2023-2024.  The importance of National Infrastructure Platforms (NIPs)  was discussed as a tool for attracting private investment in sustainable infrastructure.
The IDB Manager for Development Finance Institutions,  Susana Cordeiro, pointed out that the IDB and, in general, all of the institutions need to create links between the public and private institutions and to work together on a systematic basis.
Romy Calderón, Head of Economic Studies and Information of ALIDE, for his part, underscored the fact that "the projects carried out under the PPP system make it possible to develop the most needy towns by providing necessary public utilities like water and sanitation services, and education, among others, to low-income dwellers, thereby enhancing their possibilities for development."
Present at the event were regional Public Development Banks (PDBs) like Bancomext (Mexico), BICE (Argentina), Corfo (Chile), FDN (Colombia), and Caixa Económica Federal (Brazil), which shared a roundtable, where they described their experiences with Public-Private Partnerships, with a view to sharing knowledge and best practices.
The roundtable also made it possible to present ideas about the role of PDBs in the development of financial strategies for structuring and financing PPPs and how best to improve and reinforce the collaboration between Multilateral Development Banks and PDBs, in order to raise private financing and sustainable infrastructure through Public-Private Partnerships.
About ALIDE
ALIDE is the community of financial institutions that produce banking solutions for Latin American and Caribbean development. Founded in 1968, its main purpose is to contribute to the region's economic and social development by promoting the use of good development finance practices among its members. It is comprised of more than 80 member institutions operating in over 20 countries of Latin America and other regions of the world.
Contact
Communnication Unit of ALIDE
Phone: +511-203-5520 |: Ext: 227
comunicaciones@alide.org, comunicaciones2@alide.org
www.alide.org