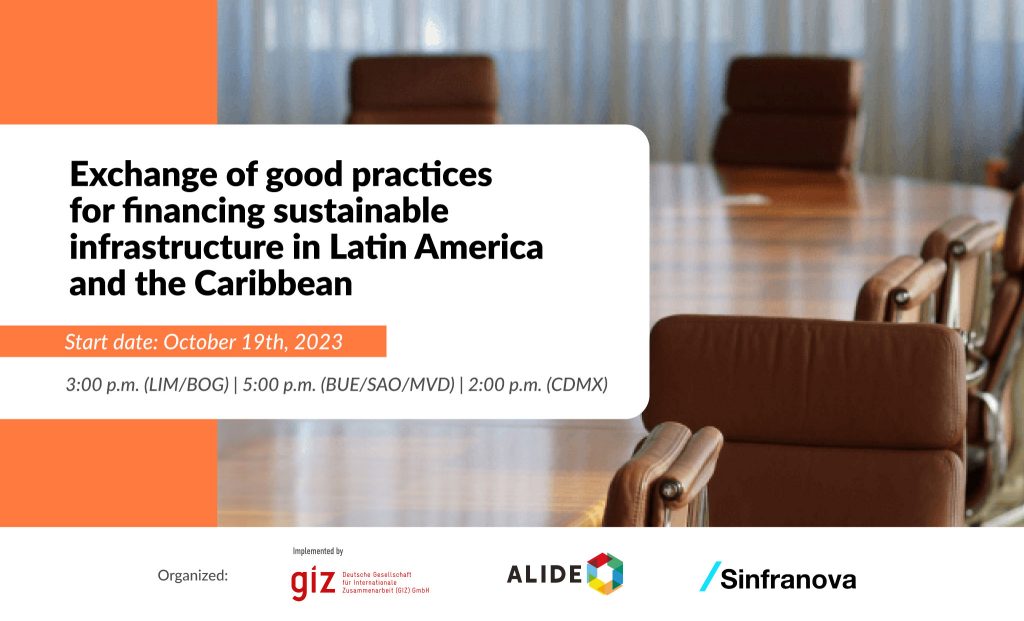 Exchange of good practices for financing sustainable
infrastructure in Latin America
and the Caribbean Program
October 19th, November 9th and 30th, 2023
15:00 p.m. (LIM/BOG) | 17:00 p.m. (BUE/SAO/MVD) | 14:00 p.m. (CDMX)
Information
Public Development Banks (PDBs) are key players in integrating sustainability in infrastructure projects at the national and sub-national levels. Their role and level of engagement may vary depending on the institution. Oftentimes PDBs provide guidance on the project preparation and the implementation of safeguard policies (where these exist). However, there is still a significant amount of work to get done to mainstream sustainability in the infrastructure planning and financing processes of PDBs.
This peer-learning workshop will therefore create a common space where PDBs can share good practices and in turn, receive inputs and new ideas for creating sustainable infrastructure portfolios.
Topics to be adressed:
Common barriers to implementing sustainability in infrastructure financing.
Mobilization of finance channeled through NDBs to invest in sustainable infrastructure projects.
Exchange on innovative solutions and opportunities for a sustainable infrastructure portfolio. Learning from tried-and-tested examples provided by participating PDBs.
Importance of global infrastructure sustainability trends —including SDG implementation, Paris alignment, and nature-positive development.
Gender mainstreaming in infrastructure.
Tools, standards, and frameworks to mainstream sustainability in infrastructure.
Dissemination of good practices.