Development Finance Institution actions and measures to support the crisis
The global health crisis of Coronavirus is generating exceptional negative impacts. In this scenario, governments around the world implement measures to stabilize the advance of the pandemic and reduce damage, strengthen their health systems, and alleviate the effects on the economy or help the most vulnerable sectors to cope with the crisis.
As instruments of government financing policy, development banks in Latin America and the Caribbean, as well as international financial organizations, are taking specific measures to support the productive and social sectors to face the negative impacts generated by the crisis.
In this section, created as an observatory, the actions and measures implemented are presented. The purpose is to learn from example to act more effectively. Stop the crisis with action and shared knowledge.
Initiatives from the banks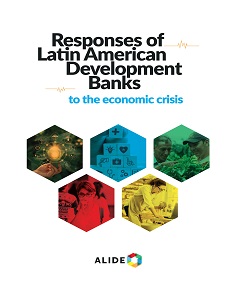 Summary
Responses of Latin American Development Banks to the economic crisis
Development banks are at the forefront in mitigating the impact of the pandemic through their efforts to design and implement government programs in cooperation with local financial systems and regional and multilateral financial organizations. The sector's immediate aim is to provide liquidity to families by social assistance programs, and to the business sector. These were identified in the study published by ALIDE and based on an analysis of the measures taken by Latin American and Caribbean banks. An initial version of this study was presented to the World Bank as a collaboration.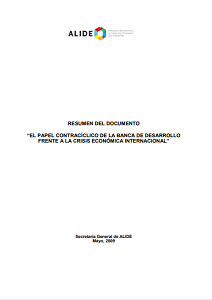 Summary
The Counter Cyclical Role of Development Banking to Face the International Economic Crisis
The current financial crisis has called to reflection not only on the operation of the markets, but also on the role of the State in regulation the financial system and its transparency, among other topics. This means that the action of the State should be directed to help the financial markets to operate increasingly better, and there is not doubt that their activity is fundamental in times of crisis when the operation of the payment and credit mechanism is in danger
DFIs and Regional Development Finance Institutions and Goverments Actions