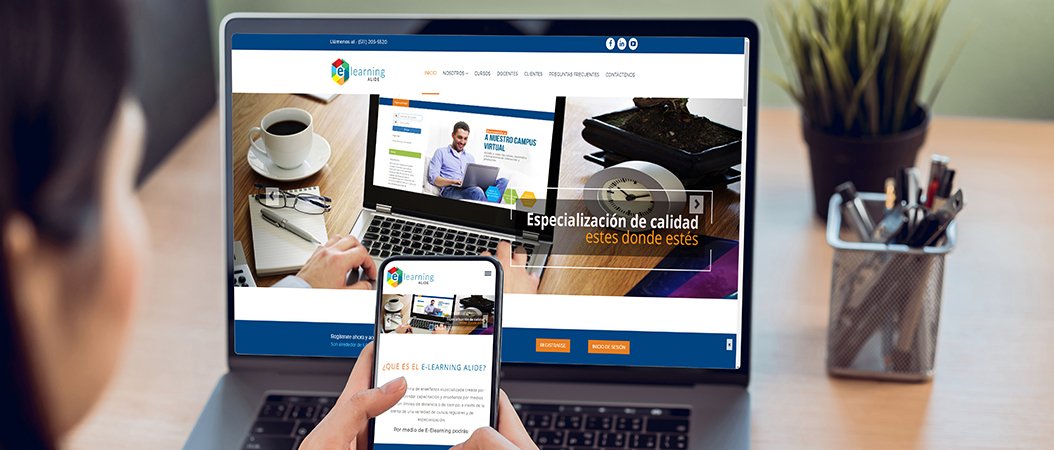 ALIDE prioritizes distance training in the face of limitations on mobility in Latin American and Caribbean countries
The Association offered a webinar free of charge on the challenges facing Latin American financial institutions as a result of the impact produced by the Covid-19.
April 28, 2020.- Since mid-March, when compulsory social isolation measures began to be enacted to mitigate the impact of the COVID-19 in Latin America and the Caribbean, ALIDE has been giving priority to providing its services and products by digital means. In this way, it is able to continue supporting the performance and management of finance institutions in confronting the crisis.
One of the services it offers is the Distance Training Program implemented through ALIDE's E-Learning platform. Between March and June, the Association offered eight distance training activities focusing on areas like strategic and reputation risk, collection management, management of the money laundering risk, digital transformation, challenges posed by the covid-19, and cybersecurity in finance institutions, among others.
There is also the On-Line training program consisting of 16 to 20-hour courses that are taught live over videoconference platforms like Zoom. The next courses to be offered along this line have to do with portfolio rating, bank capitalization and streamlined methodologies like Scrum.
"Enhancing the offering of distance courses is one way of supporting our institutions in today's extremely complex scenario, with themes in line with the present social and economic context," pointed out Jorge Montesinos, Head of ALIDE's Training and Cooperation Program.
The alliance with S&P Global Market Intelligence is additional to the Association's comprehensive course offering provided through ALIDE E-Learning. This platform which, as many institutions acknowledge, specializes in banking, management and finance, has hosted the participation of over 5 thousand representatives of banks and finance institutions of more than 20 Latin American and Caribbean countries.
About ALIDE
ALIDE is the community of financial institutions that generates banking solutions for the development of Latin America and the Caribbean. Founded in 1968, its main objective is to contribute to the economic and social development of the region, through the good practices in development financing that it promotes among its associates, about 90 institutions with a presence in more than 20 Latin American countries and other regions of the world.
Press Contact
Hanguk Yun
Officer, Comunication Unit
Telephone: +511-203-5520 |: Ext: 226
comunicaciones@alide.org
www.alide.org