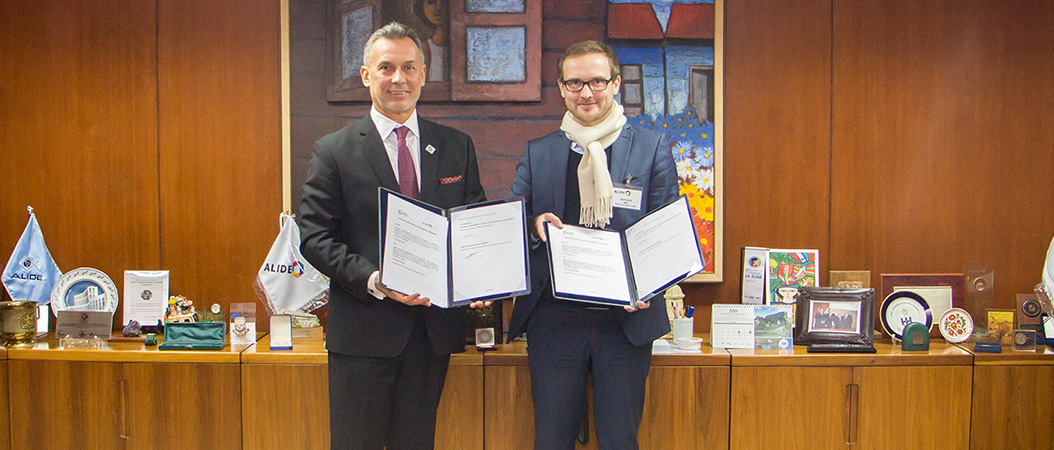 ALIDE and AFD from France renewed their cooperation in support of the participation of Development Banking in financing and in climate change issues
Through an agreement, both will carry out activities that help strengthen the commitment of development banks in Latin America and the Caribbean in the financing of sustainable development.
August 1, 2019.- The Latin American Association of Development Financing Institutions (ALIDE) and the French Development Agency (FDA) signed an agreement for the conduct of activities oriented toward increasing the awareness and participation of development banks in the region in projects and initiatives on climate change and in accordance with the Paris Agreement.
Specifically, the agreement established the cooperation in three areas: the research and exchange of knowledge on economic studies, technical assistance and the exchange of experiences, as well as organizing seminars and training activities. These initiatives shall be conducted with the common objective of increasing the contribution from the network of banks integrated by ALIDE to Latin American sustainable development.
The agreement is a continuation of the cooperation relations that ALIDE and FDA maintain. In June of 2017, the institutions signed a memorandum of understanding and established cooperation activities for the 2017-2019 period, in line with the common objectives of promoting and financing green development and development in solidarity.
As is well known, both the French agency and the Latin American association have been driving sustainable development. The FDA has built a close relationship with a diverse range of public and private institutions in the countries where it operates, in order to create synergies that may strengthen its impact. While ALIDE establishes international cooperation alliances in order to materialize contributions in favor of its member institutions, the development banks of the region.
The agreement was signed by Edgardo Alvarez, secretary general of ALIDE, and Jeremy Brault, head of the Representation Office of the FDA in Peru, at the office of the General Secretariat of the association in Lima.
About ALIDE
ALIDE is the community of financial institutions that generates solutions in Latin America and the Caribbean. Its main objective is to contribute to the economic and social development of the region, through good practices in the financing of development, the promotion of its members, through cohesion activities and strengthening the participation of financial institutions in the process regional economic.
Press Contact
Hanguk Yun
Responsable de Comunicación Social de ALIDE
Teléfono: +511-203-5520 |: Ext: 226
comunicaciones@alide.org
www.alide.org