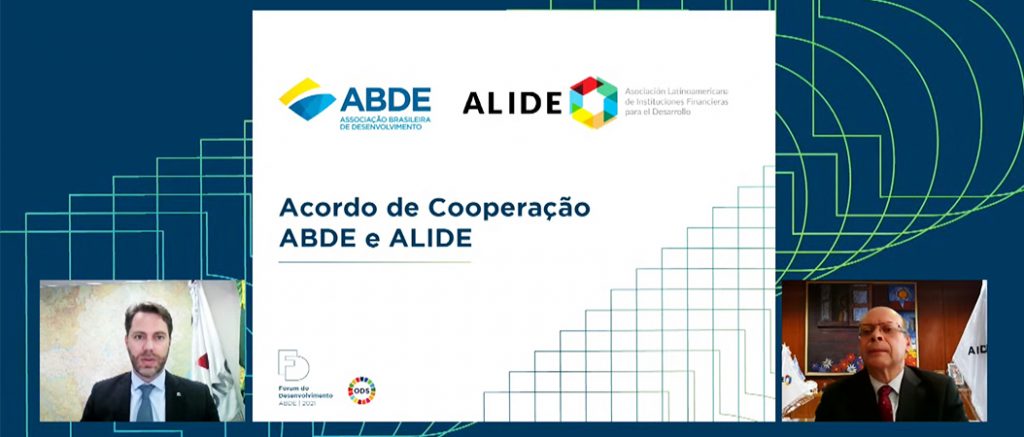 ALIDE and ABDE renew cooperation agreement in support of the Development Banking system in Brazil and in Latin America
The agreement provides for joint efforts to strengthen Development Banks in respect to the needs created by the COVID-19 crisis and to undertake the region's economic recovery.

The agreement was signed today by Carlos Linares, ALIDE President; and Sergio Gusmão, President of ABDE.



---
April 30, 2021- The Latin American Association of Development Financing Institutions (ALIDE) and the Associação Brasileira de Desenvolvimento (ABDE),  the Brazilian Development Association, renewed their cooperation agreement to work together in supporting the Development Banking system of Brazil and of Latin America.  The agreement also provides for cooperative measures to reinforce the institutions in confronting the needs created by the COVID-19 crisis and for the region's economic recovery.
The agreement was signed today, April 30, by ALIDE President Carlos Linares and Sergio Gusmão, President of ABDE, during the Development Forum organized by ABDE with the participation of important international financing organizations and development banks.  The agreement involves cooperating in the performance of training and technical assistance activities, conducting studies, holding technical meetings, promoting projects, and disseminating and exchanging specialized information.
"Given the seriousness of the impact of the crisis in Latin America, and with a view to supporting its recovery, it will be necessary for us to work together.  In that connection, the approach of ALIDE and ABDE to each other is intended to align all of our institutions with the best development and sustainability practices.  It is in that spirit that we sign the cooperation agreement that will serve to bring the Brazilian and Latin American banks closer together in a collaborative platform with experiences and the construction of strategies in  common," stated the President of ABDE.
The President of ALIDE, for his part, indicated that "the region has much to learn about Brazil's advances in financing the production and social sectors, and the same can be said about the Brazilian institutions in regard to Latin American experiences.  The agreement gives us a framework for collaboration in making these exchanges possible and complementary for offering innovations through both banking networks.  And also, of course, for undertaking joint activities in benefit of development finance."
The agreement stipulates that each institution should appoint coordinators to explore areas for complementary efforts and carry out activities to benefit the development financing institutions of Brazil and of the region.
About ALIDE
ALIDE is the community of financial institutions that generates banking solutions for the development of Latin America and the Caribbean. Founded in 1968, its main objective is to contribute to the economic and social development of the region, through the good practices in development financing that it promotes among its associates, about 90 institutions with a presence in more than 20 Latin American countries and other regions of the world.
Contact
Hanguk Yun
Officer, Comunication Unit
Telephone: +511-203-5520 |: Ext: 226
comunicaciones@alide.org
www.alide.org