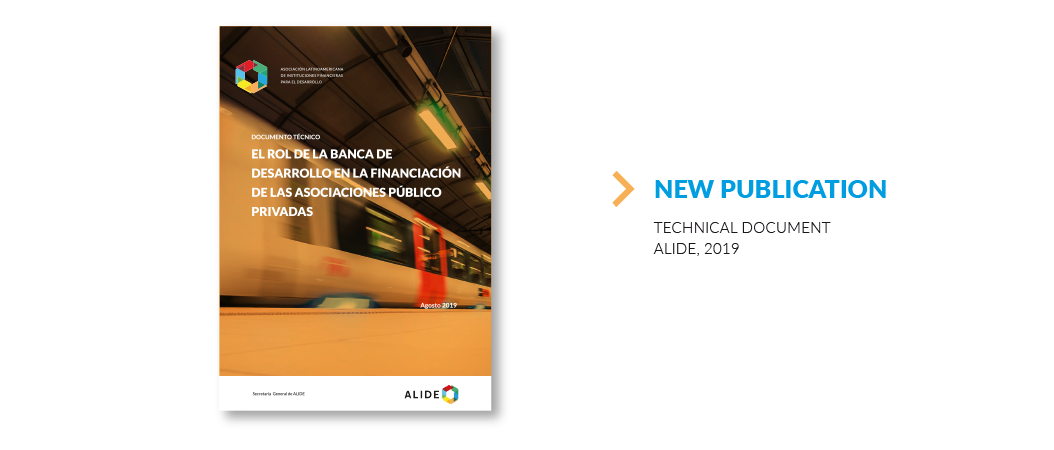 A new technical document published by ALIDE analyzes investment opportunities for banking in PPPs and infrastructure
August 20, 2019.- Development banks are considering themselves more and more as a tool for financing infrastructure in emerging economies, overcoming traditional models that limit their actions. A valuable tool for performing this function are the Public-Private Partnerships (PPPs).
What financing opportunities are offered by this mechanism to development banks? How to implement adequately this mechanism in a bank's model? What specific initiatives are the banks of the region developing in this area of action?
Recently, ALIDE has published a new technical document intended to address these questions. The document, titled "The role of Development Banking in the financing of public-private associations", explores how the sector may contribute to boost the PPPs, through financial and non-financial instruments which, directly or indirectly, help to fund, finance, or reduce the risks associated with the construction and operation of, the PPPs.
The PPP mechanism is a novel framework for the development of projects to close the infrastructure gap, because it is a flexible legal structure, it is a modern financing scheme, and it entails a transparent selection process and improvements in the protection of private contractors.
You may access the document on the following link: https://bit.ly/2nXPgYu
About ALIDE
ALIDE is the community of financial institutions that generates solutions in Latin America and the Caribbean. Its main objective is to contribute to the economic and social development of the region, through good practices in the financing of development, the promotion of its members, through cohesion activities and strengthening the participation of financial institutions in the process regional economic.
Press Contact
Hanguk Yun
Responsable de Comunicación Social de ALIDE
Teléfono: +511-203-5520 |: Ext: 226
comunicaciones@alide.org
www.alide.org