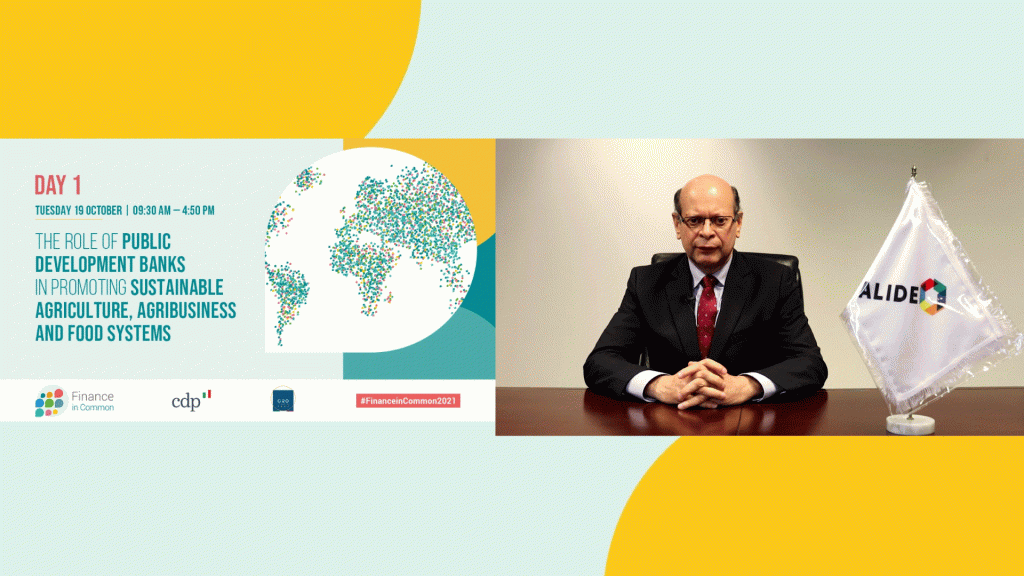 ALIDE participated in the 2nd Finance in Common Summit
The summit topics were focused on the contribution of PDBs to the development of agriculture, agribusiness and the global financial architecture for sustainable development.
---
October 20, 2021- The president of the Latin American Association of Financial Institutions for Development (ALIDE), Carlos Linares, participated during the opening of the Finance in Common 2021 Summit, which was held on October 19 and 20 in Rome, Italy.
During his speech, the ALIDE representative renewed his support to the development of the summit and called on the institutions and leaders of the financial area to support the objectives and initiatives that this meeting of Public Development Banks (PBDs) seeks to achieve. He also asked the participants to make the banking network available to promote synergies between the work programs of the different institutions in order to achieve common objectives.
He also commented the value of the summit lies in the fact that it shows a global direction and establishes a forum in which financial institutions working for development can learn from each other, share good practices and promote innovations in order to develop methodologies and cross-cutting foundations for sustainable financing of the productive, social and environmental sectors.
The second summit meeting
Finance In Common 2021 was the second summit meeting that brngs together the world's Public Development Banks (PBDs). During the two-day meeting, cohesion members reiterated and renewed their commitment to support common actions for climate and sustainable development.
The first day focused on the role of public development banks in promoting sustainable agriculture, agribusiness and food systems. On the second day, ideas were shared on the role of public development banks in strengthening the global financial architecture towards sustainable development.
The event was organized by  Cassa Depositi e Prestiti (CDP), in partnership with the Fund for Agricultural Development (IFAD), and with the support of all members of the Finance in Common coalition.
About Finance in Common
Finance in Common is the first summit that brings together the world's Public Development Banks (PDBs). Its first meeting took place in November 2020. Its objective is to emphasize the crucial role of Public Development Banks (PDBs) in reconciling short-term counter-cyclical responses to the crisis with sustainable recovery measures that will have a long-term impact on the planet and societies.
About ALIDE
ALIDE is the community of financial institutions that generates banking solutions for the development of Latin America and the Caribbean. Founded in 1968, its main objective is to contribute to the economic and social development of the region, through the good practices in development financing that it promotes among its associates, about 90 institutions with a presence in more than 20 Latin American countries and other regions of the world.
Contact
Andrea Villafranca
Comunication Unit
Telephone: +511-203-5520 |: Ext: 227
comunicaciones@alide.org, comunicaciones2@alide.org
www.alide.org