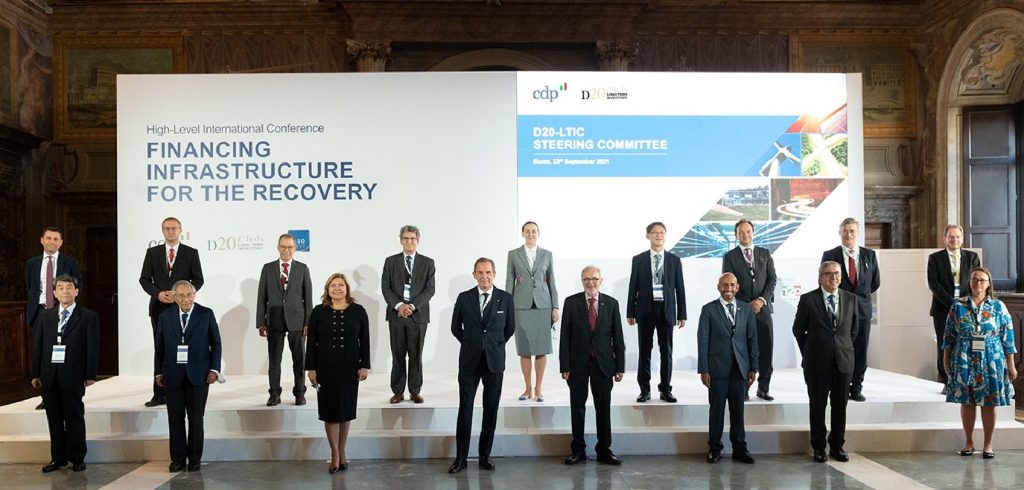 Members of the D20-LTIC agree to promote the financing of sustainable infrastructures
During the summit it was highlighted that innovation, development and collaboration are the key to addressing post-pandemic problems.
---
September 24, 2021- Members of the D20 Long-Term Investors Club (D20-LTIC) gathered in Rome for the international conference on Financing Infrastructure for Recovery: The Role of Public-Private Cooperation in Ensuring Long-Term Sustainable Growth.
The event, organized with the support of the Cassa Depositi e Prestiti (CDP) and the Italian Presidency of the G20, aimed for the members of the D20-LTIC to share recommendations for the G20 agenda on sustainable finance and public-private partnerships for long-term investment in infrastructure, a key aspect for post-pandemic economic recovery.
Summit event
During the opening speech, Werner Hoyer, President of the European Investment Bank (EIB), stressed that innovation, development and collaboration are the key to success in tackling the problems facing the world today. He added that the members of the D20-LTIC, in addition to their peers and partners, have the responsibility and a great opportunity to mobilize private financing and channel these resources to build sustainable societies.
For his part, the president of Cassa Depositi e Prestiti (CDP), Giovanni Gorno Tempini, said that the global challenges that are to come are complex and must be addressed with cooperation at the international level, which allows creating environmentally friendly investments, reduce market fragmentation and promote investment in sustainable infrastructure.
The summit conference brought together for the first time the private sector (B20 Italy) and research centers (T20 Italy), who contributed to publish, together with the D20-LTIC, the joint statement where they commit to support the efforts of the G20 to promote actions policies that help reduce the current investment gap in sustainable and quality infrastructure, which contribute to a sustainable economic model for the future.
It should be remembered that the Latin American Association of Financial Institutions for Development (ALIDE) has been a member of the D20 Long-Term Investors Club since 2018, when both institutions signed an alliance of mutual incorporation to work towards common objectives in terms of investment for sustainable economic development.
About ALIDE
ALIDE is the community of financial institutions that generates banking solutions for the development of Latin America and the Caribbean. Founded in 1968, its main objective is to contribute to the economic and social development of the region, through the good practices in development financing that it promotes among its associates, about 90 institutions with a presence in more than 20 Latin American countries and other regions of the world.
Contact
Andrea Villafranca
Comunication Unit
Telephone: +511-203-5520 |: Ext: 227
comunicaciones@alide.org, comunicaciones2@alide.org
www.alide.org