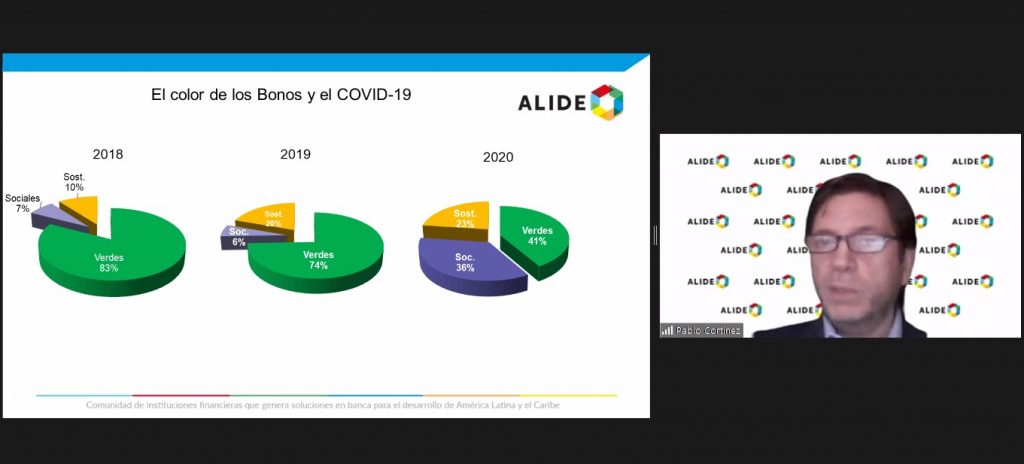 ALIDE organized Sustainable Finance webinar for post-COVID recovery in Latin America
Experiences in sustainable finance in Latin America and the Caribbean were shared during the meeting.
---
August 19, 2021- The Latin American Association of Development Financing Institutions (ALIDE), in its role as promoter of green energy projects and supporting financial instruments, organized the webinar on Sustainable Finance in Latin America for a post-covid recovery.
During the event, were shared experiences in sustainable finance in Latin America and the Caribbean, as well as the potential for the development of social and sustainable green bonds, with an emphasis on the changes that occurred as a result of the outbreak of the pandemic caused by Covid 19.
The training was in charge of the economist Pablo Cortínez and had the participation of entities from 20 countries of Latin America and the Caribbean, among which are BICE, Banco Nación, Banco Provincia, Garantizar, AFD, Banco Ganadero, BDP, BNB, Banco do Nordeste, CAF, FAO, INDAP, Findeter, Inficaldas, BCIE, Banco de Desarrollo del Ecuador, Superintendencia de Bancos del Ecuador, CEPAL, Superintencia del Sistema Financiero El Salvador, BANHPROVI, EIB, Bancomext, BID, FIRA, SHF, BFP, BNF, Banco de la Nación, KFW, BHU, Banco República, together with state agencies, consulting firms and academic institutions.
Over the years ALIDE has organized various strategic alliances with multilateral financial organizations and agencies, in order to share experiences on green energy and climate finance.
About ALIDE
ALIDE is the community of financial institutions that generates banking solutions for the development of Latin America and the Caribbean. Founded in 1968, its main objective is to contribute to the economic and social development of the region, through the good practices in development financing that it promotes among its associates, about 90 institutions with a presence in more than 20 Latin American countries and other regions of the world.
Contact
Andrea Villafranca
Comunication Unit
Telephone: +511-203-5520 |: Ext: 227
comunicaciones@alide.org, comunicaciones2@alide.org
www.alide.org