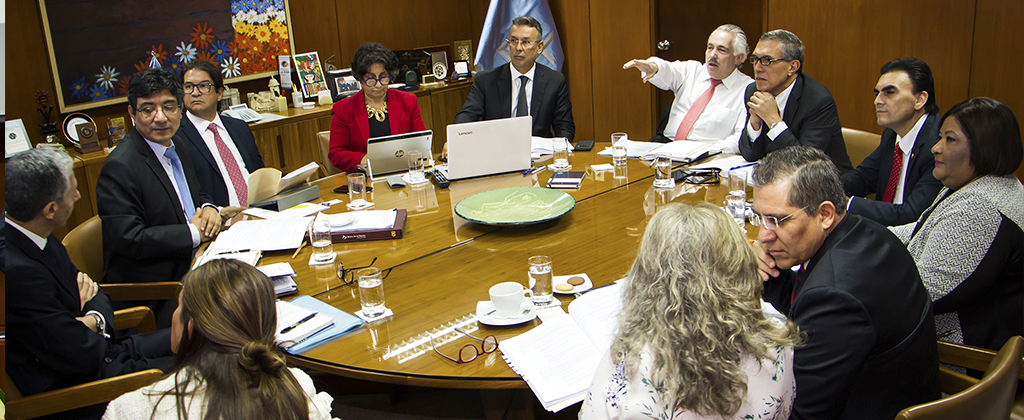 The Board of Directors met in the framework of ALIDE's 50th anniversary
---
The Board of Directors, the body that runs and guides the activities of the association, analyzed the commemorative events scheduled for 2018, the year of the 50th anniversary celebration; moreover, it evaluated the Program of Activities for 2018-2019, the preparations for the 48th General Assembly of ALIDE, the inter-institutional cooperation and other matters of particular interest.
The meeting was attended by Jacques Rogozinski, president of ALIDE and general director of Nacional Financiera (Nafin); Jessica López Saffie, vice president of ALIDE and executive general manager of BancoEstado de Chile; the directors Carlos Alberto Pereira, president of the Banco Nacional de Fomento (BNF) of Paraguay; Marina Mélida Mancía, president of the Banco de Desarrollo de El Salvador (Bandesal); Pedro Grados Smith, chairman of the Board of Directors of the Development Finance Corporation  of Peru (Cofide); Rodolfo Zea Navarro, president of the Financier of Territorial Development (Findeter) of Colombia.
The participants from ALIDE's General Secretariat were Edgardo Alvarez, the general secretary, and Eduardo Vásquez and Romy Calderón, the heads of the Institutional Relationships and Studies and Information programs.
Contacts:
General Secretariat
Phone: +511 – 442-2400 ext. 230
e-mail: secretariageneral@alide.org